The Sierra Dawn Story
Charles Maurer, father of current Sierra Dawn owner Chris Maurer, was born in 1910 in the small town of Lake City in the San Juan Mountains of southwest Colorado. His family moved to San Diego, California when he was 5 years old, but returned to Colorado often for visits and vacations. From his earliest childhood Charles, also known as Charlie, enjoyed camping, fishing and hiking in the high country.
In 1936 Charlie graduated from UCLA with a degree in chemistry, and worked for several large personal care product manufacturers from the late 1930's through the 1970's. During World War II he was stationed in Saipan in the south Pacific as the administrator of an army hospital. Charlie returned to California after the war, was married in 1949, and in 1954 his wife Betty Ann gave birth to their son Chris.
As Chris grew up, he enjoyed frequent camping and fishing trips with his family, and in the early 1960's Chris went on his first wilderness backpacking trip. Charlie, Chris and their neighbors Casey and Gene McVey, took many camping, backpacking and fishing trips together with the local Boy Scout troop, and on their own. It was during this time that Charlie and Gene started working on the idea for Campsuds.
In the old days most backpackers just carried a bar of soap for washing. Charlie and Gene came up with the concept of having one concentrated, biodegradable, all-purpose cleaner that campers and backpackers could use to wash everything that needed to be washed on an outing. Not many people had even heard the term "biodegradable" at that time, and many people weren't concerned about the environmental impact of camping, but Charlie formulated our original Campsuds to break down quickly and safely in the environment.
In 1968 Charlie and Gene founded Sierra Dawn and started selling Campsuds. Gene created the original package designs and made sales calls to local mountaineering shops, Charlie mixed up the small batches of the Campsuds formula, and together they bottled up the finished product in Gene's garage. One of Charlie's hobbies was formulating cleaning and personal care products for various uses, and Campsuds was more like a hobby for both Gene and Charlie in the beginning. But the Campsuds idea was unique, and quite popular from the start, and sales took off. In the late 1960's backpacking boomed in popularity, and Campsuds was picked up by some of the new outdoor specialty distributors that were starting up. Since that time Campsuds has basically sold itself based on its reputation for exceptional quality and convenience, and Campsuds sales continued to grow year after year.
From the beginning Chris worked part-time for Sierra Dawn, helping Gene and his dad fill the orders, and this continued to be a part-time job for Chris for many years. Chris attended Sonoma State University in northern California in the mid-1970's, and graduated with a degree in liberal studies in 1979. He traveled and worked at various jobs after college, eventually returning to work full time at Sierra Dawn. In the early 1980's Gene left the business and Chris became a partner with his dad.
All his life Chris has loved to get out into the wilderness -- hiking, camping and backpacking across the western U.S., Canada and Hawaii. He shared a strong connection to the outdoor industry with his father, and worked together closely with him for many years. In the late 1980's Charlie turned the business over to his son.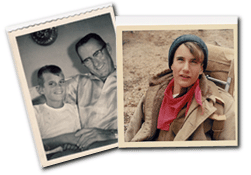 Now with over fifty years of experience, Chris continues to run the business very much in the tradition of his father, endeavoring to provide the highest quality products at a fair price, and the best possible service to Sierra Dawn's customers.

Thank you for your interest in Sierra Dawn Products, and please use our products with care in the wilderness.

Copyright 2020. All Rights Reserved.
Site designed by Planeteria.